BJW: Takayuki Ueki returns to action on 9/9 at Shinkiba 1st RING. Meanwhile Frank Atsushi announced he'll take an indefinite break from wrestling/refereeing at the end of September for personal reasons. He mentioned that his second child was born in June.
Daichi Hashimoto defended the Strong Heavyweight title against Akira Hyodo on 8/10 (17:28), Shigehiro Irie challenged him afterwards. In the main event Takuya Nomura & Fuminori Abe beat Daisuke Sekimoto & Kohei Sato in 19:47 to become the new BJW Tag Team champions.
On the show they also announced the Saikyou Tag League Lineup, which will be a knock out tournament this year. You can see the brackets for the Death and Strong blocks below.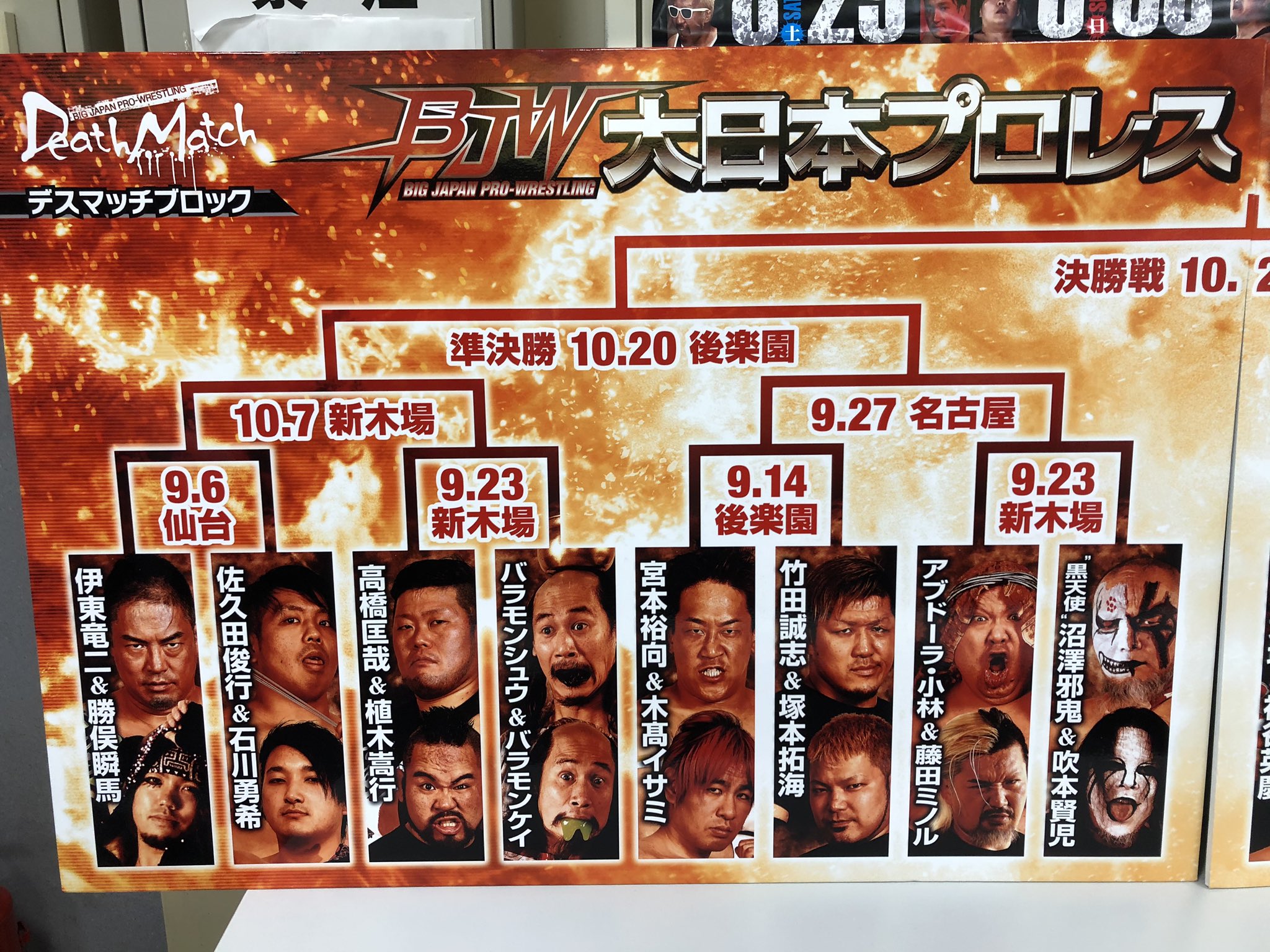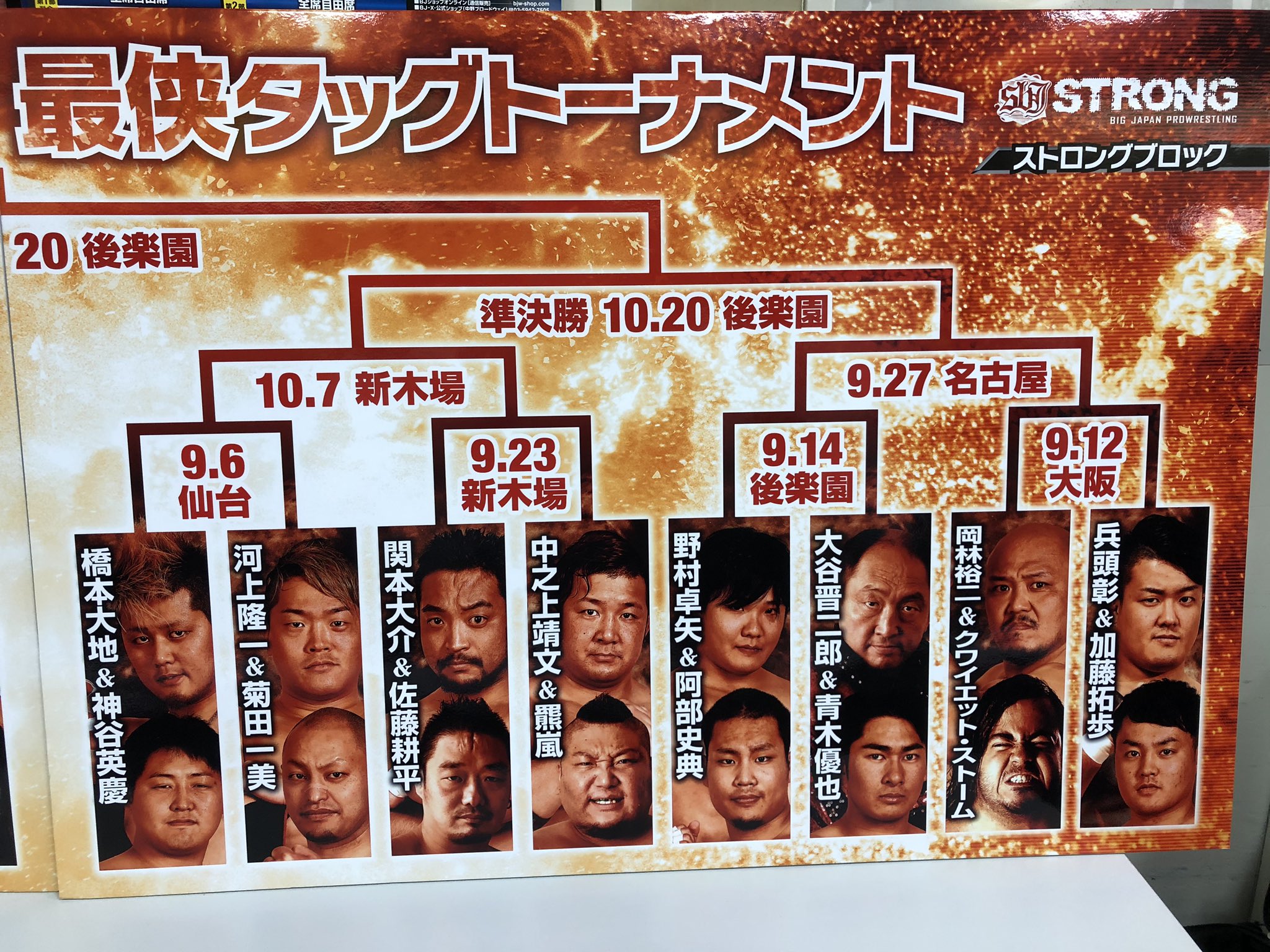 Niigata Pro: The promotion will return on 9/12 & 9/13 with two shows for the first time in seven months. Ryuichi Kawakami defends the Openweight title against Big THE Ryokan on 9/12. On 9/13 Abdullah Kobayashi & Kazumi Kikuta challenge Shigeno Shima & Great Kojika for the Tag Team titles.
ZERO1: This year's Fire Festival runs from 10/2 at Shinjuku FACE to 11/1 at Korakuen Hall with a total of eight shows.
Dotonbori Pro: On 8/10 Rapid beat Billy Ken Kid in the final of the Saikyou Otoko tournament. He will challenge Kazuaki Mihara for the WDW title on 9/6. Taiyoto Kamen challenges Osamu Suganuma for the WDWW title while Captain Amemura & Ultimate Spider Jr. challenge Kazuaki Mihara & Katsumi Oribe for the WDW Tag titles.
NOAH: Go Shiozaki & Katsuhiko Nakajima battle Kazushi Sakuraba & Takashi Sugiura for the vacant tag titles on 8/30.
2AW: Kotaro Yoshino tested positive for COVID-19 so they had to cancel the shows on the 16th, 20th and 23rd.
DDT: Naomi Yoshimura & Yuki Ueno defended the KO-D Tag titles against MIKAMI & Tanomusaku Toba (18:50) on 8/15.
BASARA: Fuminori Abe defends the Union MAX title against Daiki Shimomura on 8/25.
HEAT-UP: The company decided to cancel the upcoming Korakuen Hall show on 10/6.
Diana: Kyoko Inoue returns to action on 8/30.
PURE-J: Hanako Nakamori & Rina Yamashita beat Makoto & Moeka Haruhi on 8/10 to become the new Daily Sports tag team champions.
WAVE: HIRO'e's retirement has been moved to 9/18 at Korakuen Hall.
MISC: DRADITION have cancelled their October 23 (Korakuen Hall) and 25 (Osaka) shows due to concerns regarding the new spike in COVID-19 cases.
All TV dates from SamuraiTV's September schedule have been added to the TV calendar.
The main event of Atsushi Onita's Korakuen Hall show on 8/25 will be a Hardcore match between Rocky Kawamura, Atsushi Onita & Yuko Miyamoto and NOSAWA Rongai, Takashi Sugiura & Kaz Hayashi.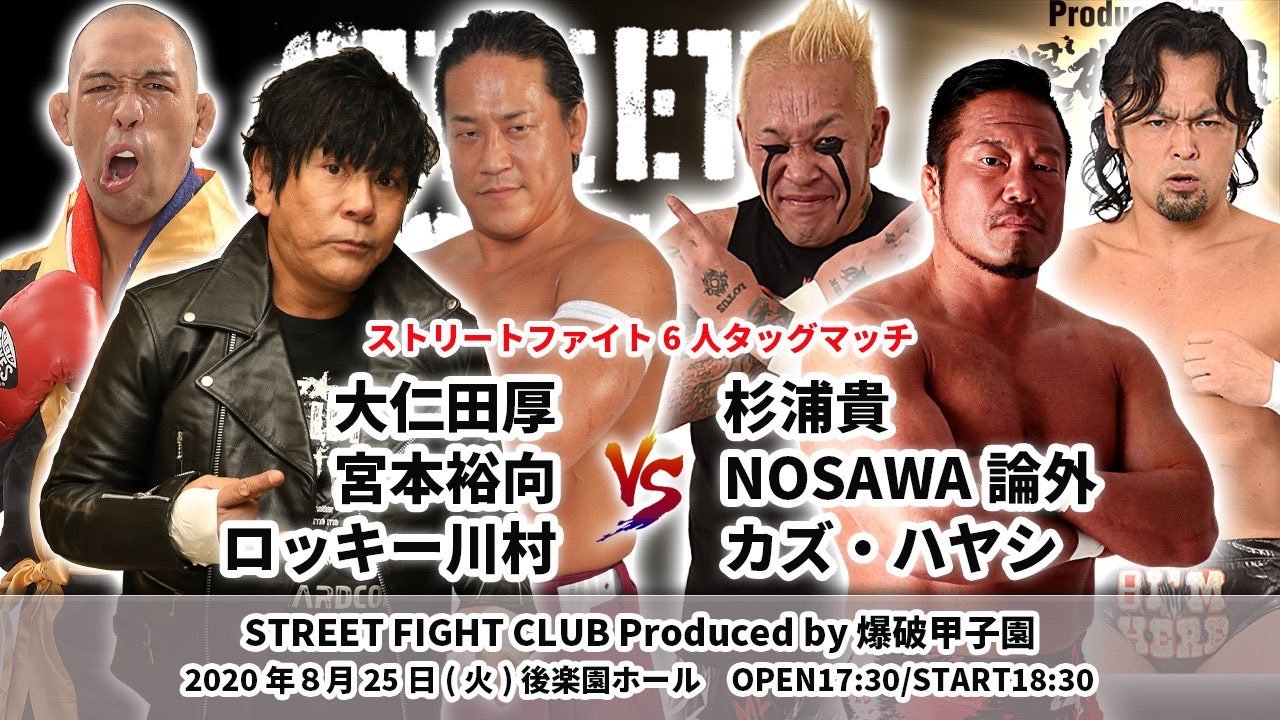 '