BJW: Daichi Hashimoto defended the Strong World title against Yasufumi Nakanoue (23:00) on 7/24 at Korakuen Hall in front of 415 fans. Afterwards Hashimoto picked Akira Hyodo as the next challenger, the match will take place on 8/10.
Shunma Katsumata (DDT) announced that he'll take part in this year's Saikyou Tag League teaming up with Ryuji Ito. Takuho Kato is teaming up with Akira Hyodo again while Yasufumi Nakanoue brings in Kuma Arashi (formerly W-1) as his partner.
Jun Kasai also returned to announce that he'll team up with Jaki Numazawa against Yuki Ishikawa & Toshiyuki Sakuda on 8/29.
AJPW: Suwama defeated Shuji Ishikawa (27:33) to defend the Triple Crown on 7/25 in front of 494 fans at a sold out Korakuen Hall. Meanwhile Koji Iwamoto beat Susumu Yokosuka (15:56) to bring the Junior title back to All Japan. Dan Tamura challenged him afterwards. Kento Miyahara & Jiro "Ikemen" Kuroshio announced a challenge for the Tag Team titles. Zeus & Izanagi won a #1 contender's match for the All Asia Tag titles.
The schedule for Champion Carnival was announced. It will be six shows running from 9/12 in Nagoya to 10/5 at Korakuen Hall. Participants and more details will be announced on 8/8 on their YouTube channel.
NOAH: According to Rene Dupree him and El Hijo De Dr. Wagner Jr. have returned to Canada and Mexico so they've vacated the tag team titles. NOAH haven't said anything officially yet, though.
JTO: On 7/26 Maika announced she'll be leaving JTO to join Stardom.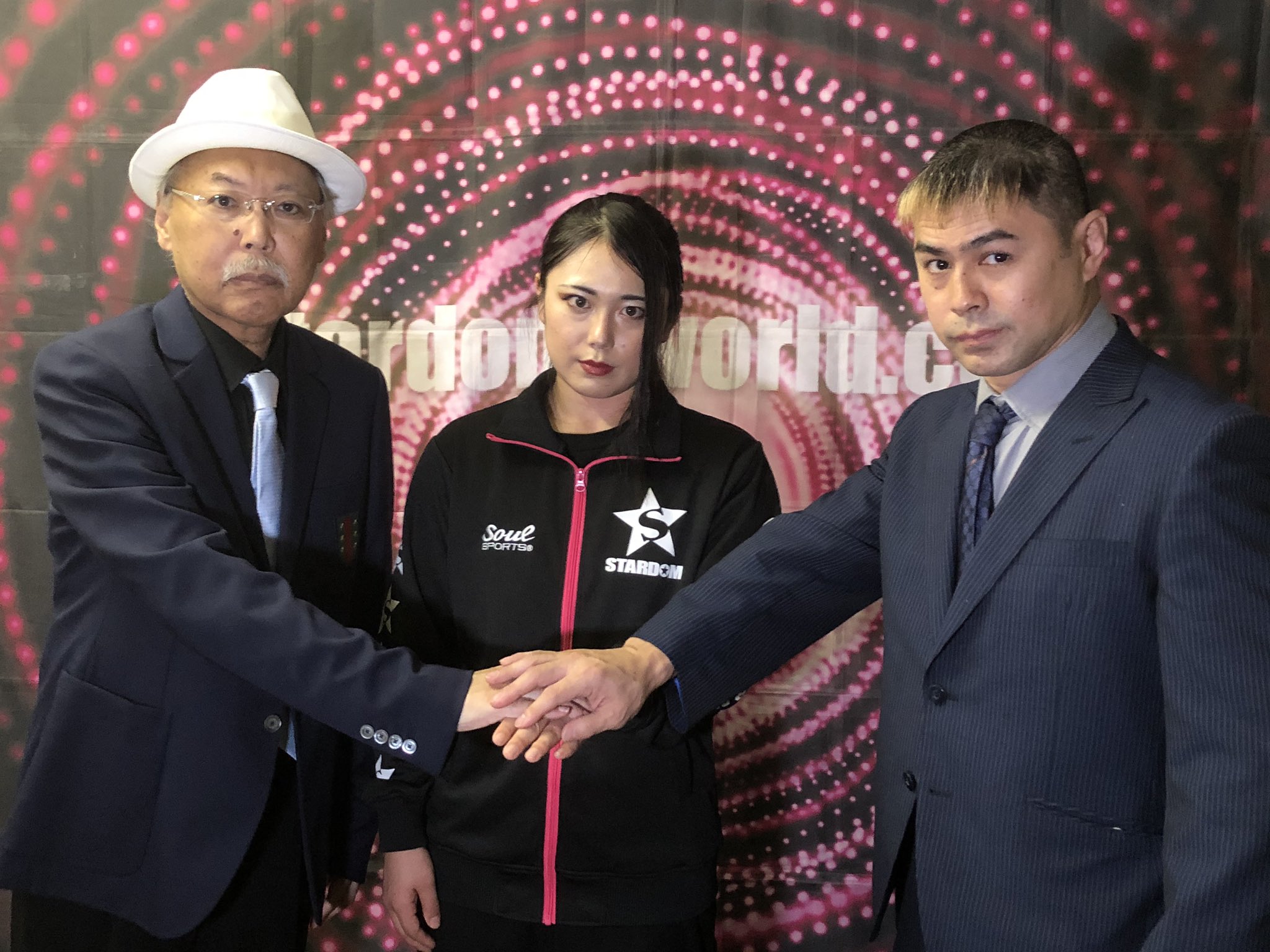 The promotion celebrated their first anniversary on 7/20 at Shinkiba 1st RING. In the main event Tomoka Inaba pinned Maika. After pinning BJW's Kosuke Sato, Hayato Tamura challenged Daisuke Sekimoto to a singles match, which will take place on 9/2 at Korakuen Hall. The show is set to air on 7/28 on SamuraiTV.
TAKA Michinoku also introduced two new trainees, "Trainee A" and "Trainee KKK".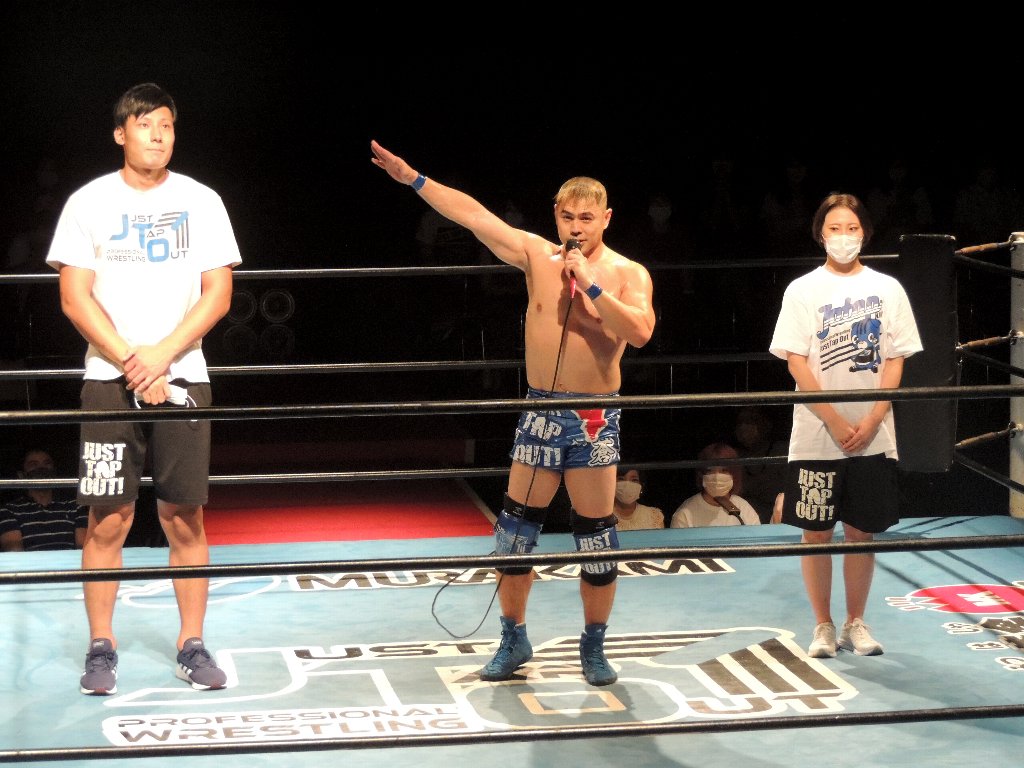 Asuka Pro: The semi finals for the BEST OF ASUKA tournament on 8/28 are Yusuke Kodama vs. Minoru Tanaka and Hiroshi Yamato vs. Koji Doi.
ZERO1: The Tenkaichi final on 8/2 will be Shoki Kitamura vs. El Lindaman. On the same show Chris Vice defends the ZERO1 World Heavyweight title against Yuji Hino and Masashi Takeda & Yuko Miyamoto defend the NWA Intercontinental Tag titles against Towa Iwasaki & Tsugutaka Sato.
Ice Ribbon: Suzu Suzuki challenges Maya Yukihi for the Infinity title on 8/9 after winning a #1 Contender's match on 7/25 at Korakuen Hall which drew 418 fans.
Makoto announced a challenge for Hamuko Hoshi's IW19 title.
PURE-J: Leon beat Hanako Nakamori (20:32) on 7/26 to become the new Openweight champion.
Chiemi Shioya will debut against Crea on 8/10 at Korakuen Hall. Her ring name will be "Chie Ozora".
Diana: Ayako Sato defends the WWWD title against Asuka on 8/30 at Shinkiba 1st RING.
TJPW: YUMI (15), who had her last match at Ultimate Party in November, announced on 7/24 that she is leaving TJPW to focus on school.
The brackets for the Tokyo Princess Cup were announced on 7/25, you can see them below.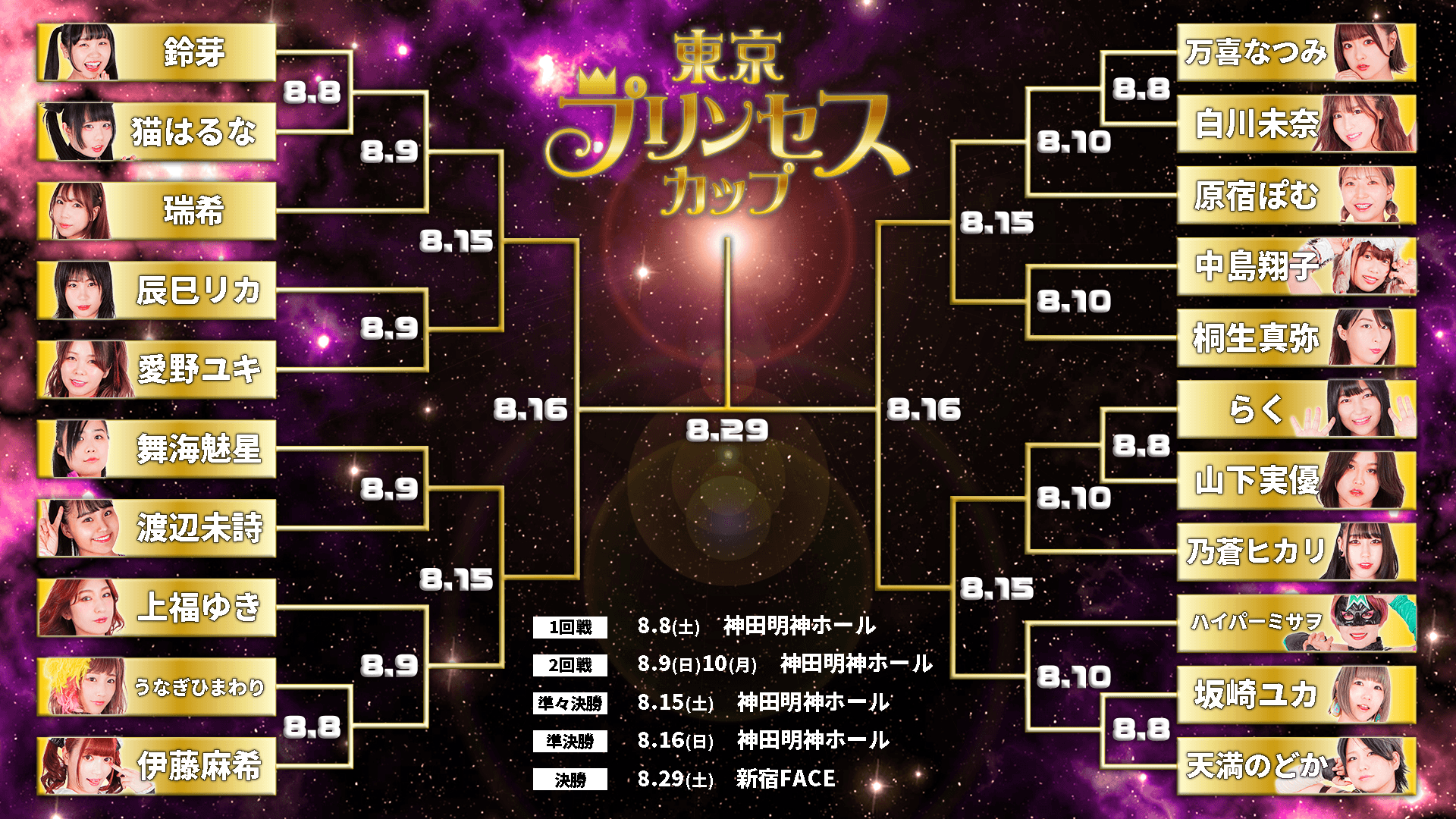 MISC: Itsuki Hoshino announced she'll stop working as a pro wrestler due to her health condition.
Yuna Manase announced on 7/26 that she'll sign with Ganbare Pro. Hagane Shinnou beat Keisuke Ishii to become the new Independent World Junior Heavyweight champion. Asuka will challenge Shinnou on 8/22.
Ryota Nakatsu beat Naoki Tanizaki in the final to win the BASARA x DOVE tournament on 7/26.
Hikaru Sato made an open challenge to Atsushi Onita for the HARD HIT show at Fujitsu Kawasaki Stadium on 8/29.